Each One Of You Is Perfect
"Each One Of
You Is Perfect The Way You Are
And You Can Use A Little Improvement"
Shunryu Suzuki , a Zen abbot, used this teaching in one of his addresses. It occurred to me that it's how I view fractals.
At first I would take them into other art programs for alterations. Draw on them, apply filters, turn them inside out to achieve a completed image. After a few years I started using them in abstract collages. And then I began to combine them with human figures.
This melding is one in a series of surreal female icons printed on cloth. The fractal is a XenoDream shell.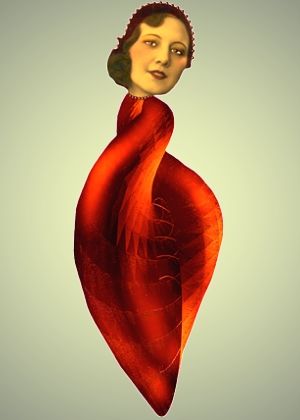 Taking fractals into multi media helped make my art more obviously personal. Moving into new areas of expression, I always pack my fractals for the trip.